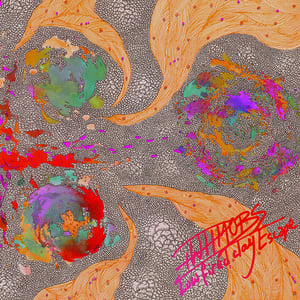 £

8.00 - On Sale
Part Wild Horses Mane on Both Sides is the duo Kelly Jones and Pascal Nichols. Proclaiming a context far greater than the sum of their instruments, Low Fired Escape is a remarkable record of visceral beauty, stark decay and translucence. One that inhales the smoke of martyrs and advances towards an unknown vocabulary, depicting barren worlds as lost as they are found. Limited to 530 copies and housed in the astoundingly intricate work of Darren Adcock.
"Much-anticipated new album from the greatest live band in the UK right now, Manchester's Part Wild Horses Mane On Both Sides. Percussionist Pascal Nichols and flautist Kelly Jones have minted a profound new form of improvisation that carves spectral shapes from silence and creates free music with a spare orchestral beauty and deep psychedelic atmosphere. Augmenting their instruments with electronics, tapes and old military communication systems, they expand the basic free jazz format with drones, feedback and zoned vocals, taking the Cherry/Blackwell duets and relocating them upwind of the alien soundtracks generated by Japan's Taj Mahal Travellers. This latest album presents five tracks of sublime, infinitely nuanced duo exchange. Nichols kit is so tonal, so expressive of melody, that at points it sounds like he's playing acoustic bass lines with it, shadowing Jones's flute as it ascends through heavenly stratas of pure tone. At points the hand-drums and scuttering vocal chants bring to mind Sun City Girls' ethno-forgeries but there's also aspects of Angus MacLise and Amon Duul in their cultic depth. Unlike so many improvisers who suffer from attention-deficit Nichols and Jones are capable of incredible subtlety and of painstaking minimalist tension, using silence and single notes to dissolve both space and time. And when Jones plays those incredible sighing runs that sound somewhere between Roland Kirk and Sabu Orimo, dissolving like pink clouds, and Nichols makes one simple movement of his hands and then the next, the effect is overwhelming. We've said it before but there's no one else that can touch them right now. Their combination of inspired musicianship and refusal of received technique makes them the most exciting psychedelic free jazz ritualists of their time. And this is a stunning document of a group at the peak of their powers. Edition of 530 copies. Highly recommended."
- Volcanic Tongue
CAR 003. 530 copies.
NOTE: EU customers please select Germany as shipping option.